The Property: Embracing more than 19.5 acres (appr. 80.000 m2), this exceptional property represents one of the largest private parcels on Sanibel lsland.
In fact: Nowadays it´s only on very rare occasions that anything of the like is available at all! (You might check yourself: here or here or there or elsewhere).
The property enjoys a prime location, lying only several hundred yards from San Carlos Bay, and adjoining a championship golf club community.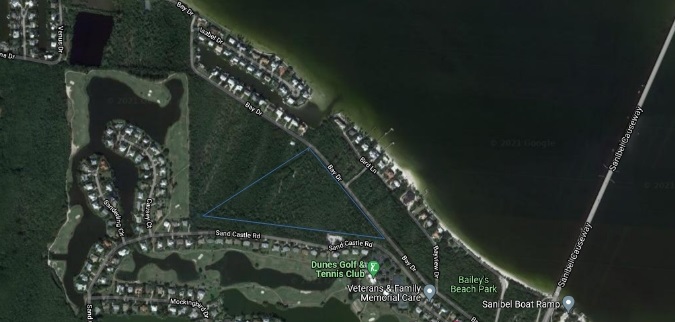 This offering provides the discriminating buyer a rare opportunity to create an expansive estate setting with beautiful bay views possible within dose proximity to golf facilities, Gulf beaches, and the myriad amenities of the Sanibel lifestyle.
Deep-water boat dockage is available for purchase near the property. Beaches are accessible.
Triangular in shape, the parcel spans over 1,000′ of road frontage. A small scenic lake is completely contained within its acreage.
All utilities including water, sewer, and electric are available to the property. The Sanibel causeway is only minutes away, affording easy access to and from the mainland.
Also, the east end of Sanibel, is near the main road, Periwinkle Way, where many popular shops and restaurants are located. So you won´t starve either 😉
Come to think of it, there´s 3 Scenarios, that could be realized with The Property: